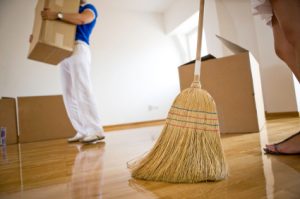 Are you looking for a move out cleaning services Melbourne; well look no further because you have found the perfect match in us. Melbourne central cleaning, move out cleaners are the specialist in providing move out cleaning Melbourne. We as a company aim towards providing our clients a premium quality of service that will help them to achieve a 100% of their bond back. We have a team of highly skilled and knowledgeable cleaners who have been in this industry for a long time and are very adaptable to various situations. Our motto is "knowledge through experience." We completely understand that all premises have a specific set of requirements that need to be taken care in a very systematic manner.
Moving to a new home can be very stressful and hectic for every member of the family. There are so many things to do when you move out it can be overwhelming. You need to sort through belongings and pack boxes, and of course, many cleaning tasks must be completed. It is important to choose our expert move out cleaners who offer trustworthy Move Out Cleaning services in Melbourne. This will reduce the stress of moving out as you can trust Melbourne Central Cleaning to take care of cleaning your old home, while you get on with the unpacking in your new home. We aim to provide our clients with a premium quality service that will enable them to obtain their bond back conditions apply. Whether you need a residential or commercial cleaning, we are dedicated to providing nothing but the highest quality Move Out Cleaning services you expect and deserve!
At Melbourne Central Cleaning, we have a team of expert and skilled cleaners who are exceptionally hard working and committed to our work. We are aware of what we need to do and possess the knowledge and experience to clean and restore any property. We are knowledgeable professionals and have years of expertise in the field of Move Out Cleaning and can complete any cleaning tasks in the most proficient manner. Thus, we ensure you that when you choose us for your move out cleaning, you will be provided with a service that you will absolutely admire and love!
Thus, we are ready and able to assist you with all your cleaning needs including bond cleaning, carpet steam cleaning & window cleaning in only the most proficient manner. Then, what are you waiting for?
Feel free to call us on 1300 85 50 88 / 0414 626 876 today for an obligation free quote!
Find more from our services including Toorak end of lease cleaning and move out cleaning in Southbank.